Spain is a high-income country facing multiple challenges, such as land degradation, climate change, and rising inequalities, that are affecting the realization of the Sustainable Development Goals (SDGs). These challenges are especially relevant in our focal study area, the semi-arid region​​ located in the southeast of Spain and the driest region in continental Europe. It comprises several administrative units, mainly located in the Province of Almeria (the Autonomous Community of Andalusia) and the Autonomous Community of Murcia.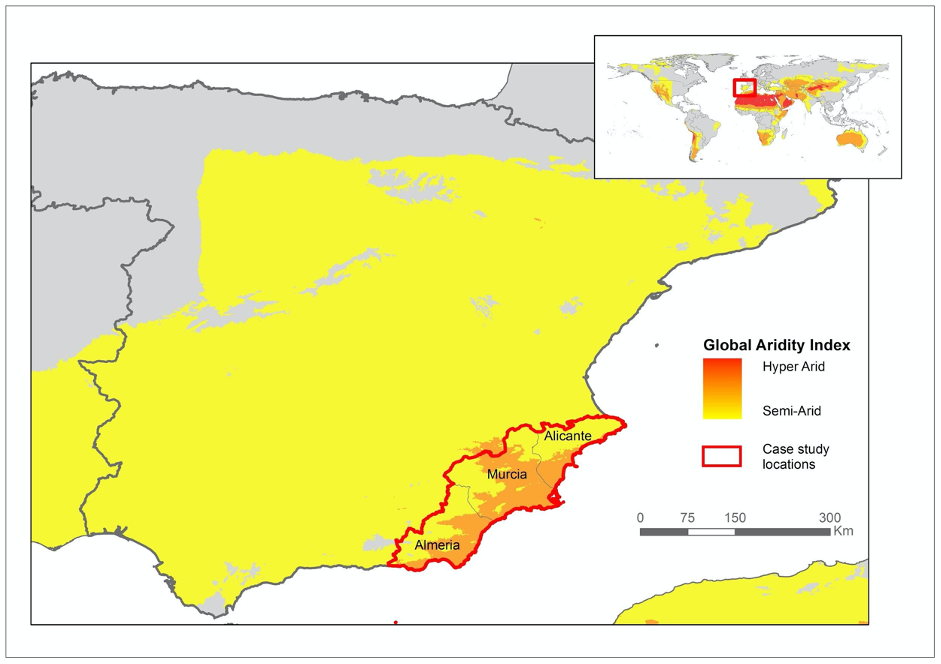 The nature of this semi-arid region -precipitation below 350mm/year and irregularly distributed, mean annual temperature between 12-18°C, and extreme summer temperatures-, and its above-mentioned challenges, makes it an ecologically vulnerable area, while also presenting high biodiversity with abundant local and Iberian-North African endemic species. This relatively small territory combines astonishing ecosystems, such as the Tabernas desert, the Natural Park of Cabo de Gata, and the Regional Park of Las Salinas de Pedro Pinatar, with highly modified agro-ecosystems of irrigated crops and extensive urban development on considerable stretches of the coastal areas and its oceanfront. The area also holds three water basins, presenting a complex system for water management.
Since the 1970's this area has experienced a notable change with large-scale economic, socio-cultural, and ecological effects. The main drivers include the introduction of intensive agriculture practices, the development of the tourism sector, and the construction industry.  In introducing irrigated agricultural development, family farming businesses have grown into a large agribusiness sector, supporting innovative practices and increasing employment opportunities in what used to be one of Spain's more impoverished areas. Thus, this area is informally known as "Europe's garden". However, the development of this region has also generated multiple ecological challenges, such as the overexploitation of groundwater (fostering the accumulation of salts in water and soil), water pollution by use of Nitrates and Phosphates in fertilizers and other sources, or abandonment of traditional farming practices that contribute to the maintenance of certain ecosystem services in biocultural landscapes.
Likewise, development in the region is bringing about social challenges, such as the lack of social integration of migrants attracted by the need for labor, unregulated housing settlements, and gender inequality.
While sustainable initiatives in the area (mainly related to the agriculture and tourism sector) are becoming more common, collective efforts are needed to better support the implementation of the Agenda 2030 and the SDG's in the area and promote a transition to a development model with sustainability and equity at its core.